Whether you're familiar with ATVs or if you recently purchased your first, trail riding is one of the most fulfilling experience a rider can have, and likely a major factor in the rider's decision to pursue ATV riding in the first place.
This article will provide a few tips for helping new and veteran riders squeeze a bit more about their ATV trail riding experience, providing some insight and resources that will help riders maximize their enjoyment. Read on to learn more.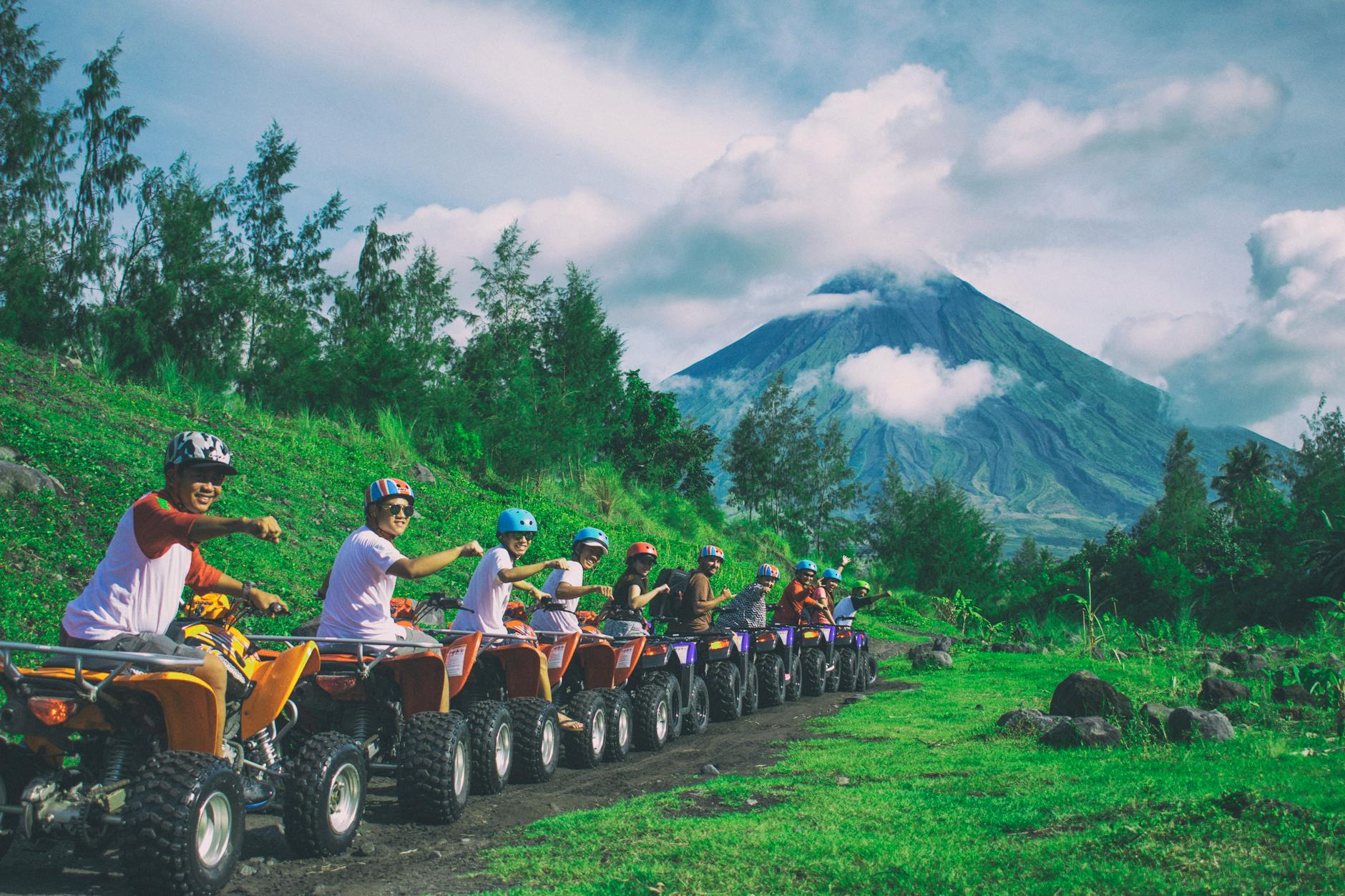 image via: pixabay
An ATV is an all-terrain vehicle. These types of vehicles are intended to take on tracks or trails, and have a variety of different uses depending on the exact type.
There are a number of different types of ATVs, as the classification for an all-terrain or off-highway vehicle is fairly broad. Here are some of the more prominent types of ATVs:
Entry-Level Four Wheelers As the name implies, these are starter ATVs for new riders, available at relatively-low prices and with fairly modest engines ranging from 125-250cc.
Otherwise known as recreational trail class vehicles, these ATVs are simpler to run due to their automatic transmissions. They run at a fairly consistent clip and are intended to acclimate riders to the feel of an ATV.
An example of an entry-level four wheelers would be the Yamaha Raptor 250 or the Honda TRX250X.
To give new riders a feel for pricing, the 2019 TRX250X (which runs a 250cc engine) has an introductory price of about $4800. A used entry-level four wheel could be found for about half of that figure or less.
Sport Quads The next classification of ATV is sport quads, which are known for their agile handling and fluid transmissions. Sport quads are ideal for trail riding because they are built to corner well and hit jumps.
Sport quads are intended for riders with a good amount of ATV experience. But for riders who can handle the bigger engines (200-400cc range) and adequately use the manual transmission, a sport quad can provide an exceptional trail riding experience.
The Kawasaki KFX 450 is a notable sport quad. This sport quad is no longer in production, but remains very sought after in the pre-owned market because of the handling and ride. A used KFX 450 can run anywhere from $2000 up to $9000 or more, depending on the condition and features.
image via: pixabay
Next on the list is utility quads, which as the name suggests are main used for practical work such as plowing or hauling. Havin said that, a utility quad can still provide a high-level trail riding experience.
While sport quads are constructed for speed and agility, utility quads are intended to traverse unforgiving terrain such as rocks or steep hills. Outdoorsy types that like to hunt or fish have traditionally preferred utility quads for this reason.
The engine size of a utility quad can range anywhere from 250-700cc, and the suspensions are notoriously stiff. One popular utility quad is the Polaris Ran​​ger RZR 570, which has an MSRP of $10,299.
Polaris touts that riders can "conquer local trails" with the Ranger RZR 570, and interested consumers can build their ideal ATV on the Polaris website.  
image via: pixabay
As you would assume, sport/utility ATVs simply combine the best attributes from both the sport and utility class to give rider the best track or trail riding experience possible.
S/U ATVs feature more sport and racing capabilities with a utility drivetrain, in many cases offering a great middle-ground for riders who want a lot of versatility from their machine.
The Sport/Utility ATV can also be described as a combination of sports machine and trailer hitch with four-wheel drive for off-roading and the potent engine of a sports ATV. The engine size of an S/U ATV can generally range from 250-800cc.
Yamaha W​olverine 350 is one example of a combo ATV, with prices ranging from under $3000 to over $10000.
Youth Models As you would expect, youth model ATVs are simply less powerful and less expensive versions of the adult models, with safety being the
primary consideration.
As an example, the engines on most youth model ATVs have an automatic kill-switch that shuts off the engine if the rider happens to fall off the vehicle. This will prevent a young rider from being dragged or run over by the vehicle.
Youth model ATVs have modest engines ranging from 50-125cc. One popular youth model ATV is the Pitster Pro Quad, which ranks among the higher-performing youth models with a full 125cc engine. With a wider chassis, the Pitster Pro accommodates a number of different body types and handles most off-roading with aplomb.
In  ATV Trail Riding Resources There are plenty of websites dedicated to ATVs and trail riding, including sites such as RiderPlanet USA.
Utilizing these online resources before you take your ATV onto a trail can really maximize the experience, as veteran riders provide plenty of insight for getting the most out of your machine.
To use RiderPlanet USA an example, the site provides a comprehensive list of trails across the United States, an event calendar spotlighting upcoming highlights within the ATV riding world, articles reviewing the latest news within the ATV riding world, and tips for improving the experience itself.
Most states have their own maps and trail riding information sources. For example, Minnesota's site is run by the Minnesota Department of Natural Resources (MDNR), and provides a comprehensive source of information for "off-highway vehicle riding" with the state.
One of the key tips for having the best trail riding experience is to simply take advantage of the various online resources at your disposal.
Given the number of maps and courses available to view, it's easy to plan and go on a grand ATV tour.
FINDING THE BEST ATV RIDING TRAIL
The nice thing about an ATV is that it's a true adventure vehicle. Once you scout a plot of land to take the vehicle onto,
That said, there are a number of destination trails throughout the United States that a seasoned ATV rider might want to check out. Here are a few suggestions:
image via: pixabay
Anthracite (otherwise known as AOAA) is one of the newest trail riding parks in America, with 6500 sprawling acres nestled not too far from major hubs such as Baltimore, New York City, and Philadelphia.
The park is under continual development, but as of this writing has over 250 miles of trails ranging in various difficulty levels.
The project is backed by Pennsylvania's Department of Conservation and Natural Resources (DCNR), and the organization has already contributed more than $3 million dollars to making AOAA a destination park with world-class trailing riding.
Moreover, the park is situated in the middle of the Grand National Cross Country (GNCC) region, meaning that a number of established professional riders now use the park as their home course.
Those who want to investigate further can learn more about the area on the official website.
image via: pixabay
Those looking for a more natural setting might want to check out the Brimstone Recreation Area in Northeastern Tennessee.
Brimstone features a massive 19,000 acres with riding trails in excess of 300 miles. The trails are rustic and scenic, with a wide-ranging view of rivers, mountain passes, and overlooks due to the drastic change in elevation.
Those looking for trail riding that submerges them into nature need look no further, as the Brimstone Recreation Area offers the ultimate outdoor experience.
Interested readers can learn more about Brimstone Recreation Area trail riding on the park's official website.
image via: pixabay
Riders looking for something unique would do well to investigate the Oregon Dunes National Recreation Area, which at 32,000 acres is the most expansive collection of coastal sand dunes in North America.
The dunes can reach heights of 500 feet and run 2.5 miles inland, providing an epic, one-of-a-kind trail riding experience. The entire run is over 40 miles starting at the base of the Siuslaw River and extending up to Coos Bay.
For reference, the highest dunes in the area are in the Umpqua area, while the longest stretch of dunes runs between a location called Horsfall Road and the Spinreel Campground.
You can learn more about the Oregon Dunes National Recreation Area on the park's website.
The wonderful thing about ATVs is that their range is really only limited to the machine's capabilities and the driver's imagination (and perhaps local legislation).
While many riders will maximize their enjoyment by taking a tour of America's ATV parks and areas, others will have a better time finding their own secluded spot for unfettered outdoor fun.
Once a rider has chosen an ATV, gotten their machine prepped, consulted a few online resources, and perhaps plotted a course or a trip, there's really nothing stopping someone from having the trail riding experience of their life.